LilyBox
keep your desktop simple

Feature
You can use LilyBox to organize your files/folders.
Drop files/folders to LilyBox, and access with menu-like UI.
You can add LilyBox anywhere on desktop.
Many cool icons for box are provided with.
Hot keys are supported.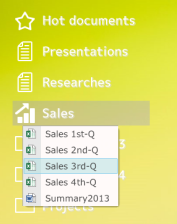 Customize
Font and size,color,etc are fully costomizable.
Text outline and shadow.
Over 700 icons are available.
You can use icon you provide.